First things first, Tonya over at
Tonya's Treats for Teachers
is trying to reach 500 followers!! When she does, she is going to have a giveaway event. She has writing and listening center task cards as freebies for those who follow her blog and leave a comment saying they are a new follower. Check her out! But make sure you keep reading my post!
Also, over at Rulin' the Roost is have a VistaPrint voucher giveaway for $80! If you haven't ordered from VistaPrint you are definitely missing out. They have some really cute things and you can customize it for your own needs!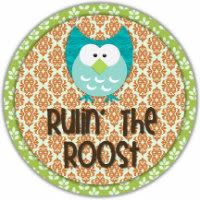 AND, Stephanie over at
Starring in First Grade
has a $10 TPT certificate for having 30 followers! Go check it out!
Now for some really awesome stuff. I finally got my orientation and staff development itinerary! Talk about having a bunch of meetings and things being thrown at you! Definitely going to be taking lots of notes, highlighting tons of papers, and probably asking a lot of questions...I kind of feel like I'm taking a college class all over again.
Anywho, I am loving how my email keeps showing that I'm getting comments on my posts!!! My boyfriend (aka Mr.) thinks I'm a complete dork, which I am, and laughs at me when I come hopping into the living room to tell him I have new followers. I think I am a source of entertainment for him. It's all good though. So since I am so excited about having a whopping 15 followers, I'm doing a mini-giveaway myself. I figure it's a milestone...a small one, but it's still one to me! So the first two people to comment tonight are getting my lovely owl binder covers for free. Just comment on my post, leave your email address and a preferred color choice and you will get the prize! Be looking in your emails some time tomorrow evening when I get home from work.
here
at my TPT store.
I am also posting some more designs I've come up with for blogs. Please tell me your thoughts on how they are coming along so far....I'm very OCD about how things look and I haven't quiet figured out what I think about this as of yet.
Have a wonderful night!